What does turmeric supply us with?
It helps with fat loss
Turmeric is rich in vitamin B which is responsible for helping us to speed up metabolism, thus contributing to weight loss and body fat loss.
Carcinogenic properties
It has been proven that turmeric inhibits the formation of cancerous cells thanks to its anti-inflammatory and antioxidant powers.
It helps with digestion
It helps to improve the digestion of food, directly influencing the secretion of gastric fluid as well as preventing the appearance of acidity.
Antioxidant properties
Due to its antioxidant power, turmeric helps to combat cellular ageing.
Anti-bacterial properties
Thanks to the essential oils, it helps to combat bacteria and fungus that could cause illnesses.
Anti-inflammatory properties
Turmeric is the main asset effective for alleviating and improving inflammation in joints.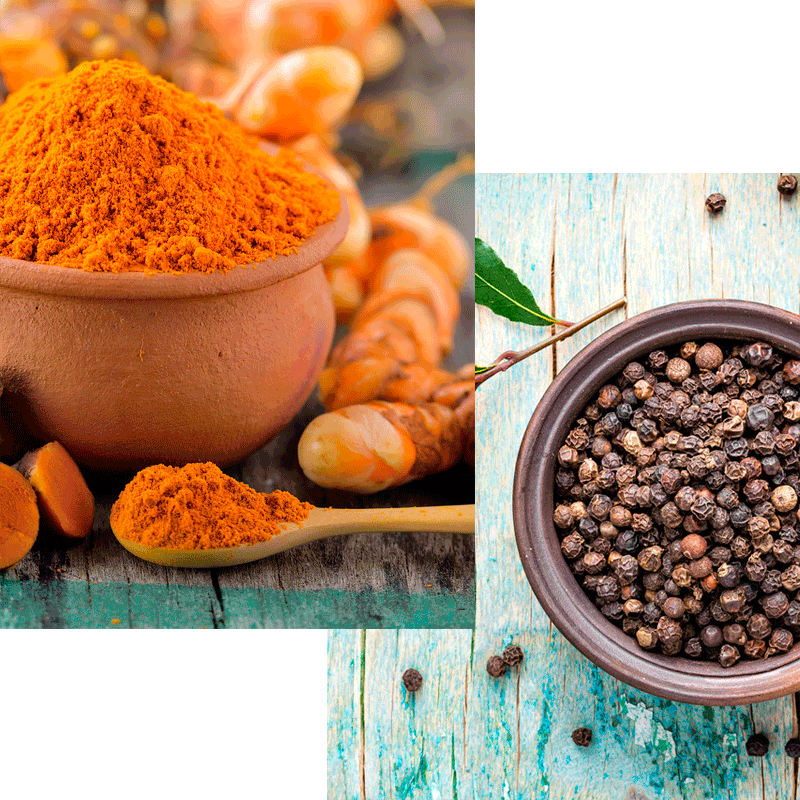 Benefits of ginger
In its composition, ginger contains some very effective oils for treating joint inflammation which reduce and alleviate pain.
Moreover, it helps to promote blood circulation and detoxify the body.
All of the above, along with turmeric and black pepper, turns it into a star ingredient, thus strengthening the benefits of turmeric.
Properties of black pepper
Along with turmeric and ginger, pepper is an ideal component that provides us with digestive well-being, helping to stimulate the release of digestive enzymes that act when we digest food. Additionally, it helps us to speed up metabolism, contributing to weight loss..
Frequently Asked Questions